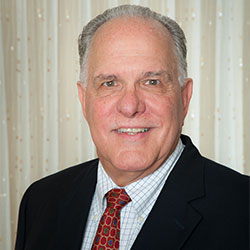 Alberto "Pancho" Motta Jr. (August 4,  1946 – April 11, 2016).
Born in Panama from  the marriage formed by Alberto C. Motta C. and Pauline Cunningham. He married Loraine Page and had three children: Alberto, Giuliana, and Georgette.
Pancho Motta lived in the City of Colon for 40 years and studied at the University of Hartwick, USA.
For 50 years, Pancho was one of the most recognisable faces in the duty free  industry in the Americas.
In 1960´s, Pancho moved to live in Lima, Peru, when Motta Internacional obtained the concession to operate a duty free shop at Jorge Chavez International Airport.
"It's in my blood, since I was young I started in the duty free business. It is part of us, we like it, we love it and we all dedicate time to it"
For 16 years he was the president of the International Association of Airport Duty Free Stores (IAADFS).
Pancho Motta also served on the board of directors of several companies. He was Director of Inversiones Bahía, Motta Internacional, Copa Holdings since 1998 and Copa Airlines since 1983, TVN, Banco General, Business Park Management, Grupo Financiero Continental, S.A., Inversiones Costa del Este, S.A., ASSA Compañía de Seguros, Petroleos Delta, S.A., Productos Toledano, S.A., Financiera Automotriz, S.A.; and Industrias Panamá Boston, S.A.
He was a member of the Advisory Board of Banco Latinoamericano de Comercio Exterior, SA (also known as Banco Latinoamericano de Exportaciones S.A.). He was a member of the Consultative Council of the Export Bank of Latin America. And Honorary Consul of Bolivia in Colon.
"All businesses are easy until you start working on them"
From his childhood he learned, from his father, the importance of giving without expecting anything in return. This was, without a doubt, the greatest legacy that Alberto Motta Cardoze left him.
Pancho was a man of cheerful spirit, sociable and extroverted, with great ability to negotiate and mediate, with a great sense of humor and very rational. He was a very dear and respected person thanks to his humility, dignity and solidarity in his daily life. He always talked about his father, with esteem, respect and a lot of pride. It was in his honor and along with his brother Stanley that he went ahead with his project of contributing through the Alberto Motta Foundation, always trying to serve, promoting the welfare of the community.
"We have a saying that you only have one business if it is a business that is good for everyone"
He was director of several non-profit organizations such as Operation Smile, City of the Child, Goodwill Industries, Casa Esperanza, Nutre Hogar, among others.
He always participated in projects of social responsibility, seeking relevant impacts in society. Pancho was involved in various activities of the Supérate Center of the Alberto Motta Foundation in San Miguelito, educational program of academic excellence that contributes to raise the level of education of young people with limited resources. Pancho was actively involved in debates and exhibitions, always supporting the initiative to raise the educational level of young people.
Every Christmas he shared with the older adults of the Golden Years, Light and Life Asylum and the more than 150 children and youth of SOS Children's Villages. Activities that became a family tradition, participating annually with him, his wife, children and grandchildren.
Pancho was a man of great nobility. It was an example and model to follow. Joyful, inspiring, fair, noble and always concerned for others.