"You will find difficult decisions. Life is not a popularity contest. If you act according to your values and principles, you will always be making the right decision on the long-term."

Alberto C. Motta Cardoze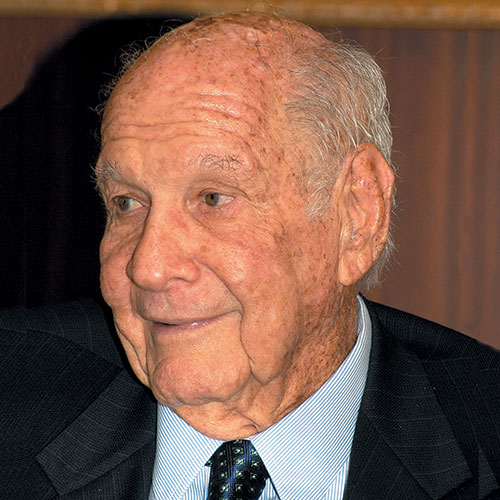 Alberto C. Motta Cardoze (September 15, 1916 – September 25, 2006) was born in Panama. His parents were Ernest Ferdinand Motta and Emily Cardoze. He married Pauline Cunningham and had three children: Sandra, Stanley A. and Alberto C., Jr.
Alberto completed his education at the National Institute and Balboa High School.
From an early age he proved to be a person with a great entrepreneurial vision and high values of honesty and integrity.
His first business was at the age of eight. He formed his first company, with a friend, selling chocolates. He used to say that "the harder I work, the luckier I get".
Then he began to distribute newspapers in Bella Vista and later began to distribute butter.
In 1933, with 17 years old, along with his brother Arthur, began working at Casa Motta located in the Central Avenue in Panama City.
In 1936, with the establishment of the Motta, he moves and lives for 52 years in Colon.
In 1940, he began selling duty-free perfumes and liquors to tourist vessels transiting through the Panama Canal.
In 1945, along with two more partners, participates in Panama Terminals S.A., the first freight company competing with the trans-isthmus railway, which was run by Americans, and was its president for 27 years.
"The faith, perseverance, determination and persistence of tenacious men have made significant changes in life that we could almost say they are miracles."
In 1947, after the Second World War, Colon began to suffer economically with the closure of US military bases and had an effect on business. It is there that arises the idea of creating a Free Trade Zone. Alberto Motta C. Cardoze was one of the visionaries who made the Colon Free Zone a reality.
In 1949, Motta International begins operations with the opening of the first Duty Free in the Western Hemisphere at the airport of Tocumen.
In 1952, the first lease in the Colon Free Zone was signed by Alberto C. Motta Cardoze.
In 1968, the Panamanian Aviation Company (Copa Airlines) was a company with internal flights only, Alberto Motta acquired a group of shares that with dedication and confidence has become one of the most important aviation companies in the region.
During his illustrious career he contributed to the economic and social development of Panama, through the creation and management of large and successful companies that have generated thousands of jobs and opportunities for Panamanians.
"The important thing is that everyone prospers. If you can encourage that at least the people who are around you grow as a person and achieve their dreams. That's the greatest satisfaction."
He was President of several companies: Motta International, S.A .; Panamanian Aviation Company S.A. (Copa Airlines), ASSA Insurance Company S.A., Banco Continental (Banco General), Costa del Este Development, National Television (TVN Media) and Telecarrier. He was also Director of Hermanos Motta S.A., Member Director at The Conference Board and The Stanford Research Institute.
Alberto Motta was President of the Chamber of Commerce, Industries and Agriculture of Colon four times and the Colon Free Zone. Member of the Rotary Club of Colon for more than 30 years. For 20 consecutive years he was part of the Tariff Commission. He chaired the National Commission on Tourism and the International Fair in Columbus. He was Honorary Consul of Sweden.
Also contributed to the development of innumerable social works, through their effective participation in organisations of social impact, including Red Cross of Colon for more than 50 years, Emily Motta Foundation (Alberto Motta Foundation) and the City of Knowledge Foundation.
He actively participated in the founding of INCAE and was a faithful believer in the ability to educate young executives in the region.
The legacy of Alberto Motta C. Cardoze has improved in the quality of life of thousands of people, and their values are still alive in each activity and initiative is undertaken.
---
Distinctions
Orden Vasco Núñez de Balboa
República de Panamá
Orden Manuel Amador Guerrero
República de Panamá
Ejecutivo del Año
Asociación Panameña de Ejecutivos de Empresa APEDE
Doctor Honoris Causa
Universidad Tecnológica de Panamá
Doctor Honoris Causa
INCAE
Hombre Solidario
Fundamujer
Reconocimiento al Mérito Ciudadano
Cicyp
Commander British Empire Order- Reina Isabel II
Reino Unido
Panamansk Medborajaren Order
Gobierno de Suecia
Officer Ordre du Merite Commercial
Gobierno de Francia
Order of Signum Fidel
Gobierno de Alemania
Grao Mestre da Ordem de Rio Branco
República Federativa de Brasil
Condecoración "Al Merito Cívico"
República de Ecuador
Estrella de Oro
Caribbean Latin America
Pergamino de Honor
Cámara de Comercio, Industrias y Agricultura de Colón
Miembro Honorario
Junior Achivement